John James Audubon, The Birds of America, 1827-1838.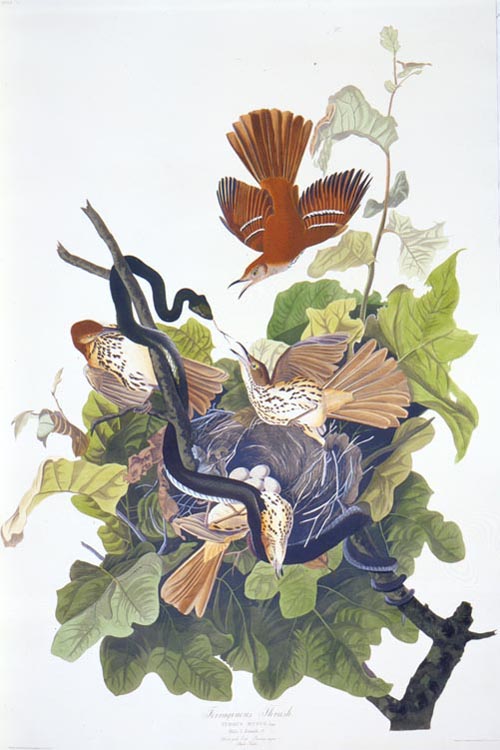 Image 4 of 50
Bowdoin College's copy of The Birds of America 'double-elephant folio' edition (4 vols.) is on display on the 3rd floor of Special Collections.
Less than 200 copies of Audubon's monumental 'double-elephant folio' edition (London: R. Havell; 4 vols.) were printed, and about 120 complete sets survive. The work was issued in installments to subscribers (87 parts of five prints each) between 1827 and 1838. The images were reproduced from Audubon's paintings by copper etching, aquatint and engraving-the subsequent prints were then hand colored in watercolor. The illustrated plates were published without any text to avoid furnishing the free copies of 'books' to public libraries in England as copyright law required. Five smaller companion volumes (Edinburgh, 1831-1839), containing textual information about the depicted birds, were consequently published separately and further reprinted in the United States (including the volume shown here). Subsequently, a 'Royal Octavo' edition appeared, integrating simplified chromolithograph renderings of the paintings with the text (New York and Philadelphia, 1840-1844; 7 vols.). 'Double-elephant' refers to a specific paper sheet size that was required to accommodate the large engraved plates.
Gift: Roscoe H. Hupper