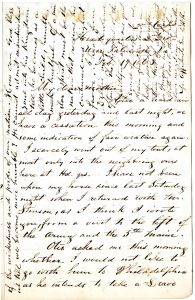 Headquarters 2nd Divn near Falmouth, Va.
My dear mother:
After a hard rain all day yesterday and last night, we have a cessation this morning and some indication of fair weather again.
I scarcely went out of my tent, at most only into the neighboring ones here at Hd. qrs.  I have not been upon my horse since last Saturday night when I returned with Mr. Stinson, as I think I wrote you, from a visit to the left of the Army and the 5th Maine.
Otis asked me this morning whether I would not like to go with him to Philadelphia as he intends to take a Leave on ten days soon.  I told him I would be compelled to get some clothes if I did so and that perhaps I had better not go.  He said I could go if I chose and I will consider the matter meanwhile.
I heard this morning that Gen. Sumner was hoping to have a command in the West and that he said he should try and get this Corps (2nd) in such a case.  I would prefer to go West for the sake of seeing the Country and having a change. …
Our army constantly feels the presence of Hooker as an energetic and shining General.  He will  yet, I confidently believe, strike a hard blow at the  Rebellion.  You know I am not inextricably attached to any General or any man; but I pray and trust that nothing whether it be moral or physical power, can send me from my love of my country or turn me from the duty I owe her under God.
I have been reading some Rebel papers and I find renewed evidence of what I had believed before, that our enemies are terribly in earnest and a large portion … think as did Paul, that they are doing God['s] service.  Now shall we be less in earnest while we expect the blessed moment, when Jesus the Lord shall strike them down and turn the hearts of such as He wills, so that they shall perceive that they have been fighting against God?  We are pained to see that there are so many traitors at home.  Still it is more natural than to have all united and true to the best interests of the world and the Kingdom of Christ.  Perhaps a want of success ought not to discourse—it certainly ought not to surprise us in view of the wickedness and pride of our nation.  How can God bless us till we become more humble?  He cannot admit an individual soul into his Kingdom till he becomes as a little child, humble, meek, trustful.  Of a similar spirit must be the nation that receives his continued and highest favor. …
Charles Henry Howard to his mother [Oliver Otis Howard Papers]