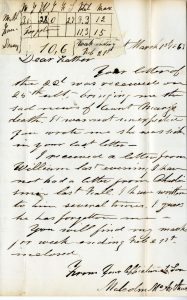 West Point
Dear Father,
Your letter of the 22d. was received on the 25th., bringing me the sad news of Aunt Mary's death. It was not unexpected. You wrote me she was sick in your last letter.
I received a letter from William last evening, I have not had a letter from Charlie since last fall. I have written to him several times. I guess he has forgotten me.
You will find my marks for the week ending Feb. 21st. enclosed.
From your Affectionate Son, Malcolm McArthur
Malcolm McArthur to his father, Arthur McArthur, Sr. [McArthur Family Papers]