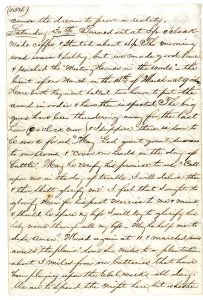 Saturday.
Turned out at 3 ½ o'clock, made coffee, & started about 4 ½.  The morning was warm & sultry, but we made good time & reached the "Meeting House in the Woods"—the limit of our march, on the 14th of March—at 9 o'clock.  Here both Regiments halted two hours to put the arms in order & have them inspected.
The big guns have been thundering away for the last hour (9 o'clock now) & I suppose there is soon to be work for us.  May God grant great success to our arms, & "cover our heads in the day of battle."  May he verify his promise to us "Call upon me in the day of trouble; I will deliver thee, & thou shalt glorify me."  I feel that I ought to glorify Him for his past mercies to me & mine, & should he spare my life, I will try to glorify his holy name through all my life.  May he help me to do so, Amen.
Moved again at 11 & marched [illeg. word] across the plains some six miles to a plantation about 3 miles from our batteries that have been playing upon the rebel works all day.  We are to spend the night here, but whether we are to go into battle tomorrow we know not.
We are here about opposite the centre of the works, 7 shall probably be in Grover's Division.  The impression seems to prevail that the rebels cannot hold out more than a few days at most, but that their works will not be taken without much loss of life.  God grant that we may succeed without much further sacrifice of life.  Lay down early & slept well.  The big guns were roaring all night, though I did not hear them.
Diary of Isaac Winslow Case [Miscellaneous Manuscripts Collection]