Sportsmen's Convention—Pigeon-Shooting at the Brighton Beach Fair Grounds, Coney Island.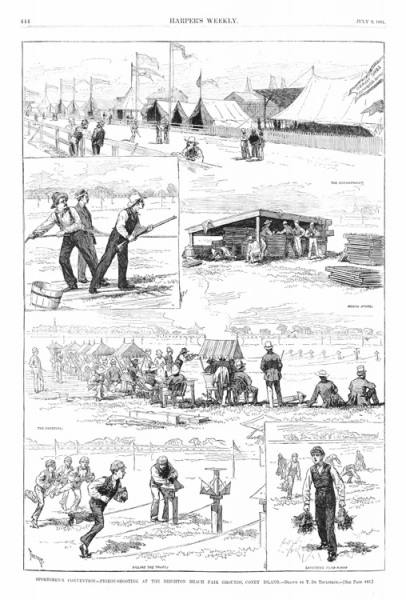 Image 1 of 29
Woodcut, after a drawing by T. De Thulstrup. In: Harper's Weekly (July 9, 1881), p. 443.
The Encampment; The Pigeon Store; Pull!; The Shooting; Filling the Traps; Gathering Dead Birds. While market hunters took millions of pigeons as they migrated, roosted, and nested, professional pigeon shoots called for tens of thousands of live birds to use as targets. The great shooting tournament of June 20-25, 1881, in Brighton Beach required twenty-thousand live birds. W. P. Thomas, who supplied the birds, enthusiastically described the sport on June 22:
"This is the biggest shooting match ever seen on the face of the earth … and there never were better birds. Just see how they fly. Don't that fellow tower well?" he said, pointing to a pigeon which mounted straight up into the air. "There goes a tailer!" he exclaimed, as one flew straight away from the marksmen. "That's a driver" pointing to one that went skimming to the ground in rapid flight for safety; "they're hard to hit…. Ah, that fellow quartered well!" he said, as a pigeon went off to one side. "A quarterer makes the best shot," he added.