Abraham Flexner's "Medical Education in the United States and Canada: A Report to the Carnegie Foundation for the Advancement of Teaching." New York City, [1910].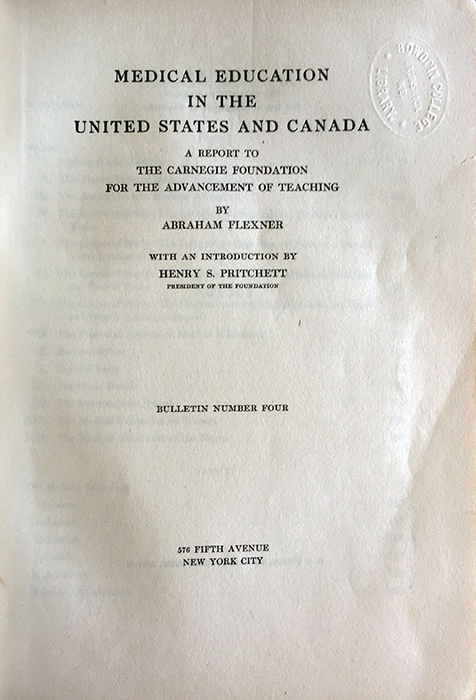 Image 1 of 11
In the early 1900s, industrialist and philanthropist Andrew Carnegie and the American Medical Association financed a movement to improve medical education in the United States and get rid of substandard teaching facilities. Abraham Flexner, an education specialist, travelled to all 155 medical schools in the U.S. and Canada to assess the state of medical education. By 1923, only 66 medical schools remained based on the findings of the Flexner report.
The Medical School of Maine's reputation was dealt a severe blow when Carnegie's investigators gave it an unfavorable review. Flexner found the equipment covering physiology, bacteriology, and pathology to be "slender" with "nothing in pharmacology at all." The report also took issue that none of the laboratory faculty were full-time and most were non-residents; additionally, the clinical studies took place in Portland at the Maine General Hospital (now Maine Medical Center) and that the instructors rarely communicated with those on faculty in Brunswick.
Return to exhibit home page |Explore Bowdoin and the 1918 Influenza Pandemic