Interested in doing your own research on topics relating to the Bowdoin Africana Studies Program, Black Student Union, or Russwurm Center? Look to the research guide below for information on where to start in the George J. Mitchell Department of Special Collections & Archives at the Bowdoin College Library.
Background
The first two black students to enter Bowdoin did so eighty-four years apart: John Brown Russwurm in 1822—not only as the College's first black student, but also the third black person to ever graduate from an American College—and Herman Dreer in 1906. Following Dreer was a slow trickle of black students—one every few years—that constituted the college's early black enrollment. They would occupy titles like the first student to integrate fraternities at the college, or the first African-American elected to Bowdoin's Phi Beta Kappa chapter—all while attending classes and rooming with many students who sought to exclude them.
While Bowdoin was evidently willing to stretch its conventional demographic to admit the very occasional, very exceptional black student, it still permitted minstrel shows on campus, fraternities which barred black and Jewish students from membership, and embraced one illustrious alumnus whose 1924 Maine gubernatorial campaign was supported by the Klu Klux Klan and who was rumored by many to be a member of the Klan himself.
Bowdoin's racist histories and eventual engagement with the civil rights movement occurred on a similar timeline as they did at other liberal arts college campuses. In many ways, Bowdoin's history of black life and culture can be seen as unremarkable within a national context. In other ways, Bowdoin's role in a national, historic civil rights movement cannot be understated: the campus is home to two structures formerly on the Underground Railroad; the first black students Bowdoin did admit went on to establish the first black newspaper in the nation, found historically Black colleges, charter American Civil Liberties Union chapters and work as civil rights lawyers; Bowdoin students were responsible for Martin Luther King, Jr., Mahalia Jackson, and other black icons' first visits to Maine, as well as the first state-wide MLK day celebration, held in the first African American cultural center in the state.
Now, fifty years after it established an Afro-American Studies program, African American Society, and African American Center, the College reflects not only on the role it has played in the growing, national recognition of black people and culture in American history but also the role black people and culture have played in Bowdoin's history and growth as an institution.
Bowdoin's early black graduates (1826-1942)

If you have additional information on any of the men listed above or other early black graduates of Bowdoin, please submit information in the comments section of this website.
Martin Luther King, Jr.'s 1964 visit to Bowdoin
Dr. King and Bayard Rustin visited the College together in May of 1964, per an invitation from the student group Bowdoin Political Forum. It was Dr. King's first visit to Maine, and people from across the state flocked to First Parish Church on Bath Road in Brunswick to hear him speak.
The Morehouse Exchange Program
Project 65
Bowdoin Undergraduate Civil Rights Organization (BUCRO)

The founding of the program
The African American Society
The Russwurm African American Center
Lashback
Racial Harassment
Opposition to and Vandalism of Afro-American Center
The Africana Studies curriculum
Numbers for course enrollment and majors in the program can be found in the Reports of the President from 1972 – 1991. After 1991 the Reports of the President stop providing this data. Refer to this graph for the complete data set of majors in the program.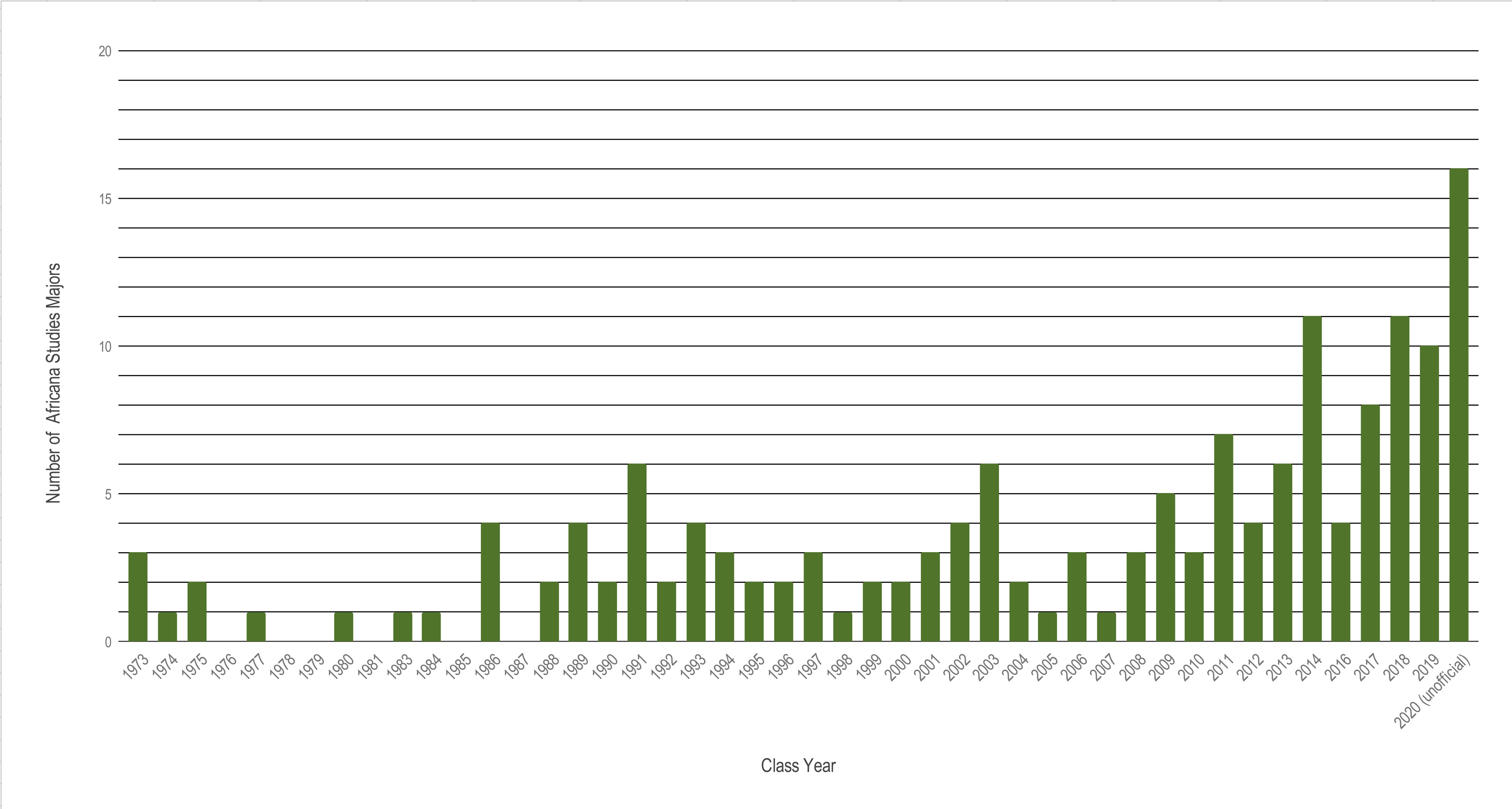 Admissions and African-American Students; Affirmative Action
Divestment from South Africa
Anniversary Celebrations
Tenth anniversary
Twentieth anniversary
Thirtieth anniversary
Fortieth anniversary
Diversity Coalition
1993 External Review & Self-Study
Black Alumni
Africana Studies in the 21st Century
Africana Studies Research Guide compiled by Lucia Ryan '19 with the assistance of staff of Special Collections & Archives, Summer-Fall 2019.