Please feel free to share your thoughts and reactions to the exhibit. Have your own story relating to Bowdoin Africana Studies or the African American Society? We want to hear from you (please check back soon for options to share your story and contribute to the College Archives).
---
Sign up to share stories about your time at Bowdoin in a short interview during the AF/AM/50 weekend (November 8-10, 2019). Oral histories will be preserved permanently by Special Collections & Archives. Sign up here. For Oral History related questions, contact Aisha '20 at asrickfo@bowdoin.edu
---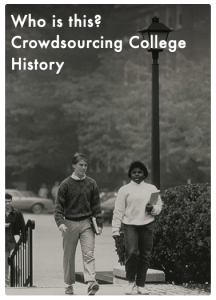 Who is this? Crowdsourcing College History
Join Special Collections & Archives' effort to identify people from Bowdoin's past. Many photos in Bowdoin's Historic Image Gallery feature former students, faculty, and staff of the College whose names we don't know. Every photo in the Gallery has an "Identify People in this Photo" button you can use to help us improve our captions, helping future researchers find the images they seek. Learn more about our efforts to crowdsource college history here.