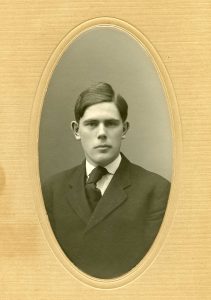 Roscoe H. Hupper, Class of 1907 and a member of the Board of Overseers, presented Audubon's The Birds of America to Bowdoin College in December 1955, in memory of his mother, Mary Alden Hupper (1854-1944). š
Hupper was born in 1883 in Thomaston, Maine. His father, Joel H. Hupper, was a sea captain and his mother, Mary Alden Hupper, was a school teacher. In 1904, Roscoe H. Hupper graduated from Hebron Academy as valedictorian of his class and entered Bowdoin College the same year. He graduated magna cum laude in 1907 and went on to attend law school at George Washington University, completing his degree in 1910. From 1910 to 1961, Hupper practiced admiralty law in Washington D.C. and then New York City. His devotion to Bowdoin was evident in his service, as an active member of alumnus groups and an Overseer, and in his gifts. Hupper gave the College manuscripts by Henry Wadsworth Longfellow, a medieval Book of Hours, and countless other historical artifacts and rare books.
Hupper purchased John James Audubon's double-elephant folio Birds of America in 1955 from the American Museum of Natural History, which had two copies and put this one up for sale by the Kennedy Galleries in New York, with the stipulation that it "be acquired only for an Institution of Learning, to provide opportunity for students of Americana and Ornithology to become acquainted with this 'Bible of American Ornithology.'" Roscoe paid $23,620 for the four-volume set, plus a 10 percent commission and incidental expenses of $230, roughly equivalent to $240,000 today.
Bowdoin's Birds of America stands out for its composite plates. In 1838, as Audubon's London engraver and printer, Robert Havell Jr., was finishing his work on The Birds of America, Audubon asked him to create thirteen composite prints, which would unite all of the individuals of certain species that had appeared on different prints over the course of the project, either due to production issues or identification mistakes. Only six to seven copies of each composite print were made. Audubon reserved the best three for his set and those of two friends. The remainder made their way into a handful of twenty or so sets that were being produced by Havell for subsequent sale by Audubon when he returned to America in 1839. Bowdoin's copy has four composite prints, more than in any set at any college or university in the world. The first composite print to be found in Bowdoin's set is Plate CCIX. It depicts three, instead of only two, Wilson's Plovers, a shorebird found during breeding season along the southeastern and Gulf coasts of the United States.
Text adapted from Peter Logan's "Audubon's Bowdoin Connection" in the Bowdoin Magazine ( No. 1, Fall 2017: 10-15). Read Logan's article in its entirety below.