William Pierce's Class of 1871 Call to Prayers, 1871. Stereograph.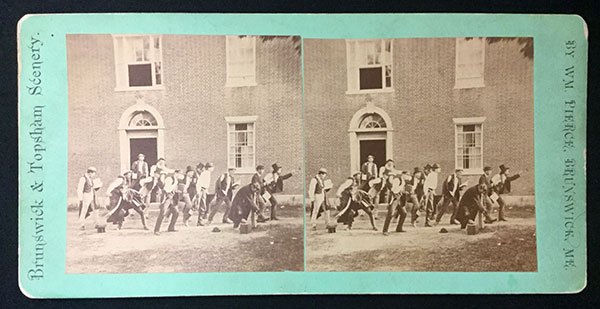 Image 1 of 3
This stereographic image depicts a group of Bowdoin students of the class of 1871 outside of Winthrop Hall going to prayers. Chapel attendance was still mandatory at Bowdoin in 1871. By exaggerating typical walking movements and collectively tilting towards the right, the students add an element of comedy to one of their daily activities. The drama of this photograph would have been heightened because it is a stereograph, an early form of three-dimensional photography. Placed on cardboard were two almost identical photographs, side by side, to be viewed with a stereoscope. When viewed through a stereoscope, the photograph appeared three-dimensional, creating a compelling visual illusion for the viewer.
From the Bowdoin College Archives.