John James Audubon (1785-1851) lived a tumultuous life riddled with scandal and poverty but his prodigious effort to depict all of America's birds at life size is today still widely heralded as the standard of wildlife illustration. The monumental Birds of America contains 435 plates depicting 1065 figures of 489 species of American birds, in life size, reproduced from Audubon's paintings.
Audubon drew largely from specimens gathered in the field or from skins sent to him by naturalists to create his representations. To reproduce his paintings, the images were copied by means of etching on copper plates (often with additional aquatinting and, less frequently, with occasional engraving) and printed in black ink on "double elephant folio" paper by Robert Havell of London (except for plates I-X, which were editioned by W. H. Lizars of Edinburgh). Subsequent to printing, the images were hand colored with watercolor before being distributed, either in installments to subscribers (in eighty-seven parts of five prints each) or as complete bound copies to the general public.
Wild Turkey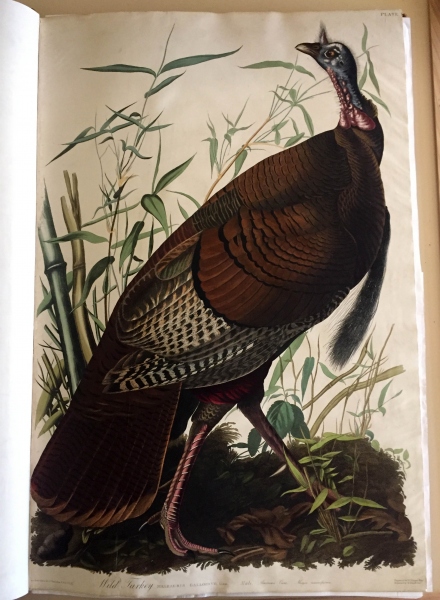 Image 1 of 30
Wild Turkey, Plate I
The great size and beauty of the Wild Turkey, its value as a delicate and highly prized article of food, and the circumstance of its being the origin of the domestic race now generally dispersed over both continents, render it one of the most interesting of the birds indigenous to the United States of America.
Excerpt from Audubon's
Ornithological Biography
. Edinburgh, 1834-1839.
Explore birds, guest speakers, and live streams of the page-turning event.
Approximately 175-200 full sets were published. Of these, 120 complete sets are thought to survive, perhaps 70 of these located in North America. Many sets have been broken up for the sale of individual plates. Distribution of the plates and publication dates of the volumes are:
Vol. I 1827-1830 (Plates 1-100)
Vol. II 1831-1834 (Plates 101-200)
Vol. III 1834-1835 (Plates 201-300)
Vol. IV 1835-1838 (Plates 301-435)
Audubon published textual descriptions (in five volumes) separately to accompany his illustrations: Ornithological Biography, or, An Account of the Habits of the Birds of the United States of America (Edinburgh, 1834-39). Soon after, he issued a royal octavo edition of his work (The Birds of America [New York and Philadelphia, 1840-1844; 7 vols.]), this time joining the text with smaller tinted lithograph illustrations. The text volumes and the royal octavo edition are also held by Bowdoin College Library.
Read about Bowdoin's copy of Audubon's double-elephant folio Birds of America.