For nearly forty years, the College failed to sustain more than one full-time appointment in Africana Studies, which had immense implications for students' ability to complete the major, the available mentorship for black students, and on the advisorship of the African American Society. Randy Stakeman was the final professor to maintain all of these roles at once, in addition to serving as associate dean of the faculty and overseer of Bowdoin's Mellon Mays program. Upon Stakeman's retirement in 2006, President Barry Mills determined to focus the College's recently-launched capital campaign, at least partly, on raising funds to establish four additional Africana Studies professorships. Due in part to this investment, the program is stronger than it has ever been. With the celebration of the program's 50th anniversary, it is important to remember that this strength is both recent and long-fought-for—not just in these fifty years, but in Bowdoin's longer history of racism and slow change.
Commencement Speakers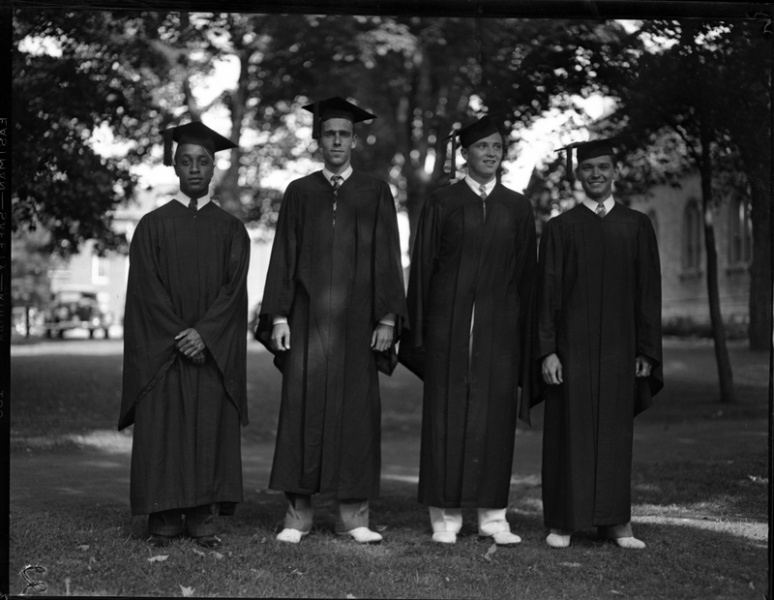 Image 1 of 8
In this image, 1937 commencement speaker Richard K. Barksdale '37 (far-left) stands next to fellow speaker and classmate, Charles F. Brewster '37. Barksdale was Bowdoin's ninth black graduate. Brewster was the son of Ralph Owen Brewster, Class of 1909, whose 1924 Maine gubernatorial election was supported by Maine's Ku Klux Klan chapter, of which Brewster was an alleged member.